Victorino out until after All-Star break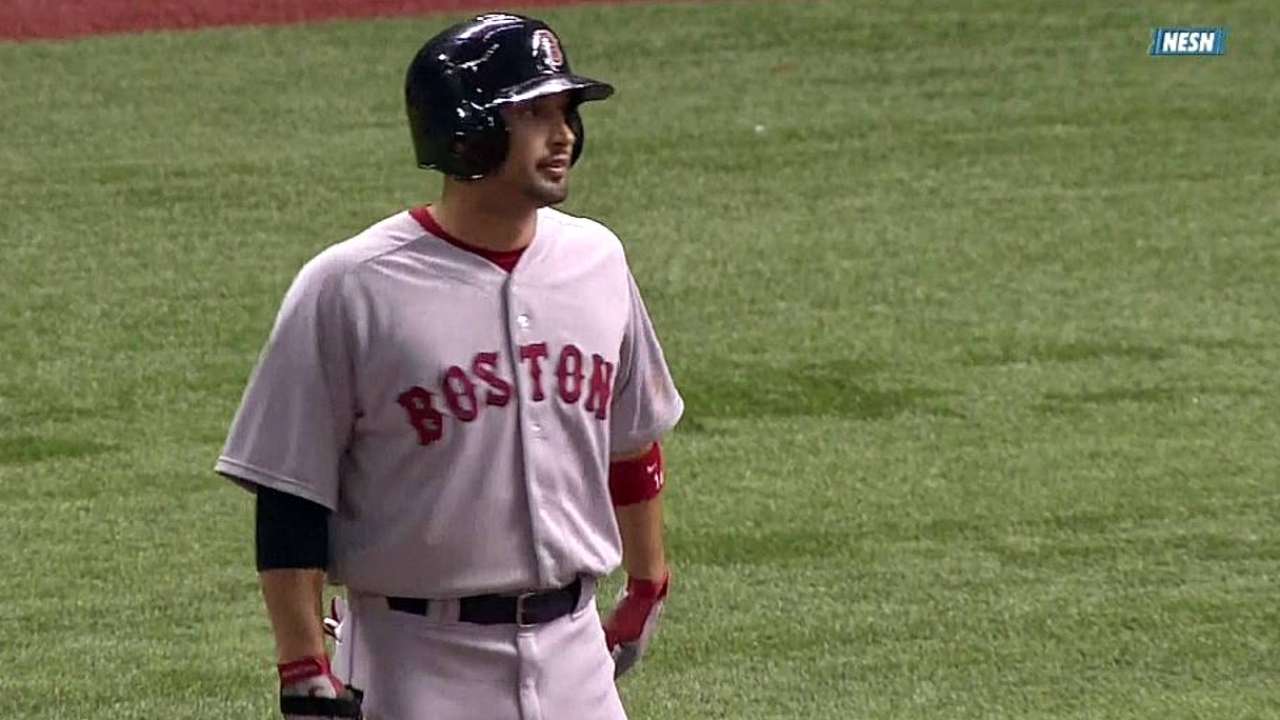 BOSTON -- Shane Victorino will not return to the Red Sox lineup before the All-Star break and the start of his rehab assignment will be pushed back from Wednesday to Thursday, manager John Farrell said Tuesday.
Farrell said the outfielder had "increased symptoms" in his lower back this week, but responded well to treatment. Victorino sustained a slipped disk in his back during a rehab assignment with Triple-A Pawtucket on June 24.
"There was a tentative plan in place that had him up to five consecutive days of games played. And that was going to include a progression through the typical 2-3 at-bats all the way through a full nine innings," Farrell said. "So we're still following that guide. We didn't anticipate him back until after the All-Star break."
Victorino hasn't played since May 23, when he aggrevated a hamstring that caused him to miss the first 22 games of the season. During his most recent rehab stint, Victorino felt a "click" in his back prior to that June 24 game, but didn't think anything of it. Then when tagging up from second to third on a flyball, he felt it pop.
During Boston's 2013 World Series run, Victorino experienced lower back soreness, but described that as just a muscle spasm, different from the injury he sustained nearly two weeks ago with Pawtucket.
"I want it to be sooner than later," Victorino said last week. "I think from an aspect of making sure that I'm ready and healthy and ready to play, I have no time table. I'm hoping by the end of the homestand."
That goal has obviously been changed, as it was last month. While Victorino recovered from the hamstring injury, Farrell said he hoped to get the 33-year-old back during a seven-game West Coast trip that began on June 19.
Victorino is hitting .242/.276/.352 in 21 games with the Red Sox this season. In 2013, he hit .294/.351/.451 with 15 homers and 21 stolen bases, and won a Gold Glove.
"He's been missed. His energy, his defense, what he's done at the plate for us," Farrell said. "His vacancy has left a hole in our lineup. That's not to single out anyone else that's played in our outfield. That's to say Shane Victorino was a heck of a player for us last year. And we miss that player."
Ian Browne is a reporter for MLB.com. Read his blog, Brownie Points, and follow him on Twitter @IanMBrowne. Stephen Petrella is an associate reporter for MLB.com. This story was not subject to the approval of Major League Baseball or its clubs.