Farrell: Bogaerts working hard to break out of slump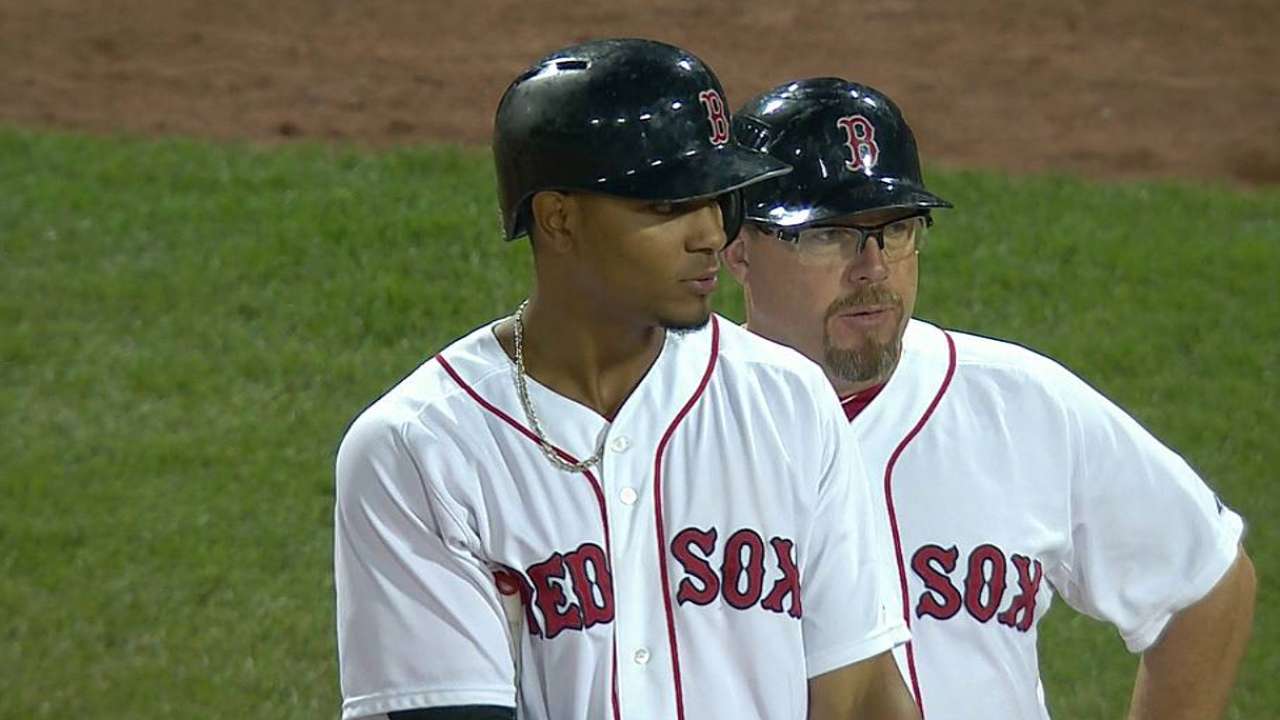 HOUSTON -- Xander Bogaerts is putting the work in, manager John Farrell said, but that doesn't mean it's translating to in-game success.
It's not so much a matter of the work Bogaerts is putting in, either. It's more about the pressure of needing to snap out of his hitting slump and whether or not to trust the changes he's trying to make.
"There's a lot of early work going on," Farrell said. "Where it seemingly hasn't gained traction yet is taking it into games. Not uncommon for guys to revert back to some of the old habits even though they're working on some things currently. That's what we see Xander going through right now."
Entering Saturday's game, Bogaerts had nine hits in his past 100 at-bats for a .090 average with 31 strikeouts. On June 3, Bogaerts was hitting .304 after going 2-for-4 with a homer against the Indians. After going 0-for-4 Friday against the Astros, he was hitting .234 and has hit one homer since the June 3 game.
The rookie infielder finally showed some signs of breaking out of the slump, going 2-for-4 with two singles in the Red Sox's 3-2 loss to the Astros. Bogaerts said the difference Saturday was that he was swinging at strikes rather than chasing balls, which he said he had been doing.
"I just tried to go up there, tried to hit the ball hard," Bogaerts said. "Sometimes it happens, sometimes it doesn't."
"He's still not fully on time," Farrell said. "Hopefully today's a little bit of a confidence boost for him and starts to get him going a little more consistently."
On Wednesday, Farrell decided to pinch-hit for Bogaerts in the eighth inning with the Red Sox trailing by one run with two runners on base and two outs. With two outs and runners in scoring position, Bogaerts is hitting .081 this season.
Farrell was asked Saturday about how he weighs what's best for Bogaerts against what's best for the Red Sox.
"What's right for our team long term is to get a productive Xander Bogaerts," Farrell said. "Keep in mind we've done some things recently here in a pinch-hit situation to look to win a ballgame. That may be the case going forward, but we don't lose sight that we still have confidence and know he's going to be an impact player."
Farrell said Bogaerts' attitude has remained positive during the stretch, but added that he's a conscientious player with a strong desire to do well, causing some of the ebbing and flowing of his confidence based purely off result.
"Part of that is not only trusting his work that's going on but slowing the game down mentally," Farrell said. "There's the competitive spirit inside of everyone that says you want to get it done right now, and sometimes that's when the reverting back to old habits take over, and we're working through that right now."
Mike Vernon is an associate reporter for MLB.com. This story was not subject to the approval of Major League Baseball or its clubs.