Boras has confidence in Bogaerts, Drew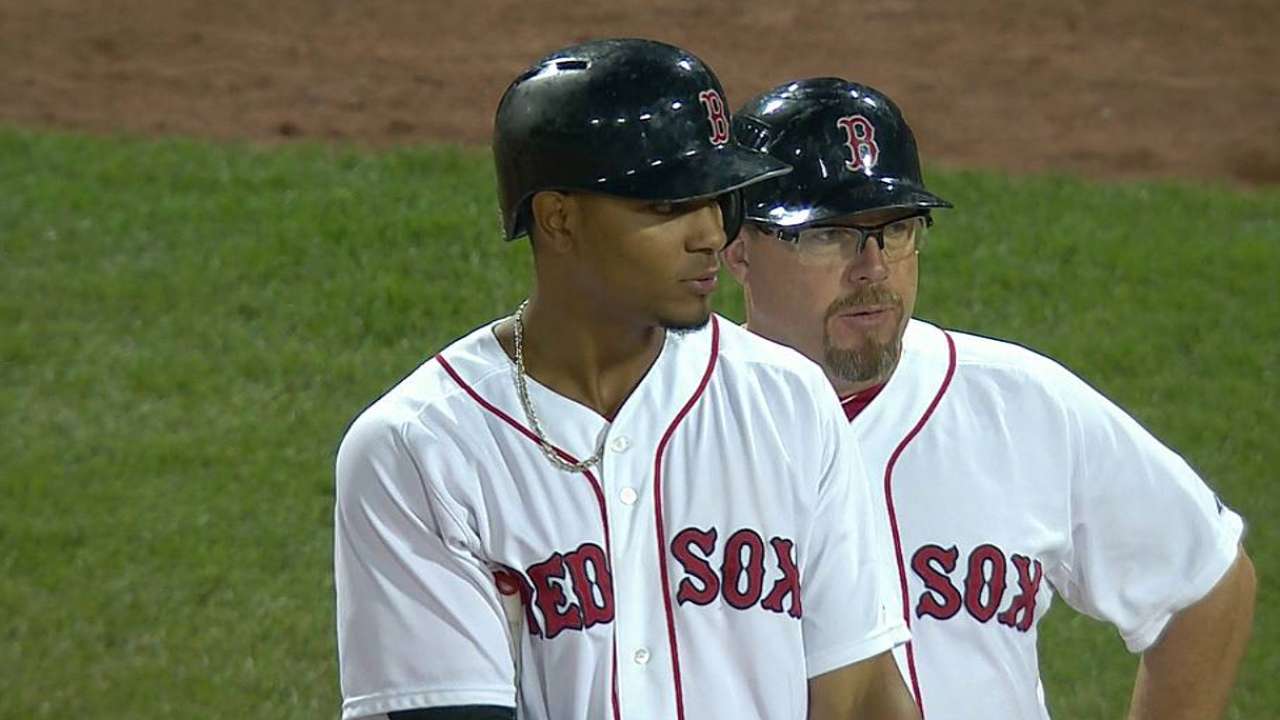 MINNEAPOLIS -- Red Sox third baseman Xander Bogaerts finished the first half in a severe slump, but it is just a temporary condition, said agent Scott Boras.
Due to the way Bogaerts eased his way to the Major Leagues late last season and helped the Red Sox win the World Series, he masked some of the natural development issues that have led to his struggles this season.
"You come up to the big leagues your first year and there's no expectancy, and the other thing is the league doesn't know you," said Boras. "You've got to remember that Xander has had very little time in the Minor Leagues and he's learning how to hit sliders and breaking balls and the timing of it in the Major Leagues."
Boras has represented many star players over his decades in baseball, and he has no doubt Bogaerts can get to that level.
"Athletically, there is nothing that Xander can't do," Boras said. "I think we all trust that and know that the one thing he can't do is accelerate experience. When you have great, precocious athletes, they've conquered every dynamic that's given them. I don't think in the Minor Leagues they have sliders like that. He's just getting those at-bats and getting the timing. And I think we're going to see him once he gets that part where you wait and you stay inside the ball, and he gets that timing and the depth of the ball, he gets a significant amount of experience. And then, watch out."
Bogaerts started the season at shortstop but moved to third base when another Boras client -- veteran Stephen Drew -- re-joined the club in June.
After not having Spring Training, Drew is hitting .151 in his first 93 at-bats of the season.
"I think it's all a function of timing," said Boras. "One of the things is Stephen is stronger. He's the strongest he's ever been in his career. He's had a good deal of time to work out, he was at our sports fitness institute every day, really made a diligent effort. He's a guy who has strength under him.
"We get scouting reports, they're saying he's never played better defense, that his range is even better. He's really returned to a level of play that's probably beyond what it was when he was 25 or 26 and had a healthy ankle. That seems to have resolved itself.
"Now in the batter's box, it's really just about him. The Drew's take pitches, Drew's work the counts, they do things. And I think to get that acumen of being comfortable in the batter's box, I think that kind of started to unfold a little in Houston [before the All-Star break]. He's a lifetime .270 hitter and that's not going to go away, and he's in the prime of his career so I'm not concerned about him."
Ian Browne is a reporter for MLB.com. Read his blog, Brownie Points, and follow him on Twitter @IanMBrowne. This story was not subject to the approval of Major League Baseball or its clubs.