Red Sox hoping to activate Victorino from DL
Outfielder may rejoin club on Saturday after successful rehab stint at Pawtucket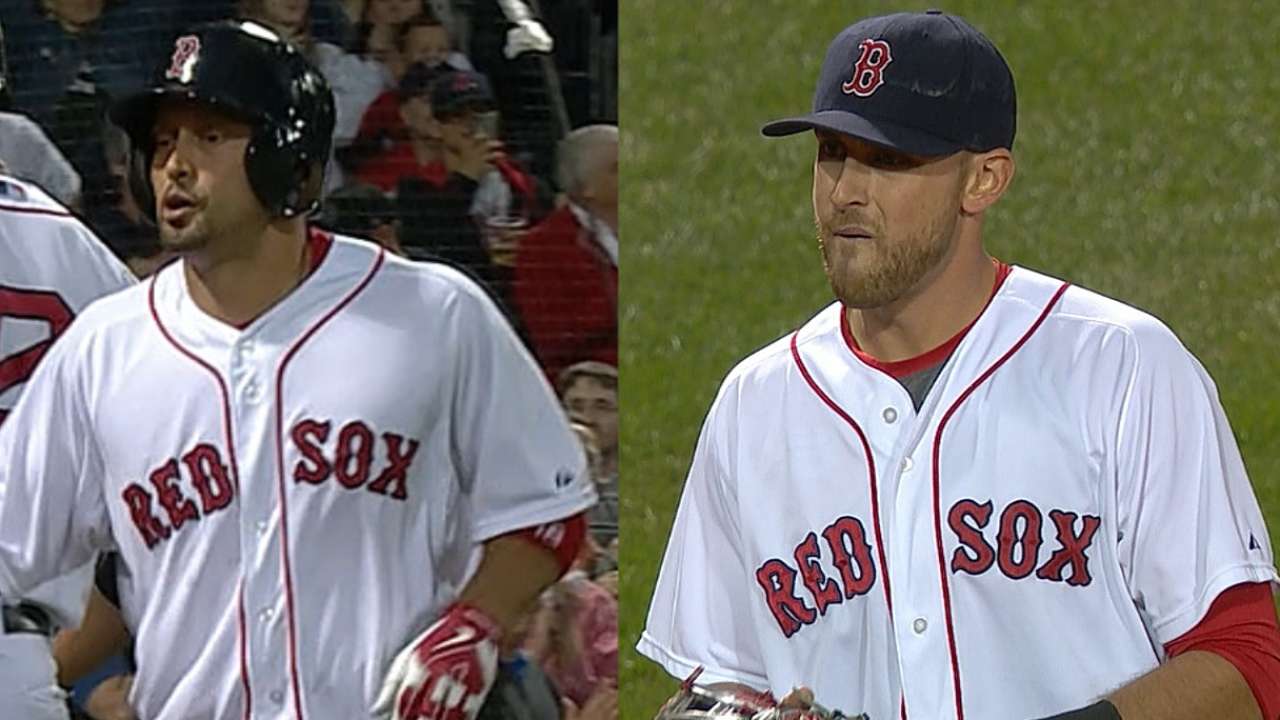 BOSTON --- No one feels worse about the Red Sox struggles than Shane Victorino, because he hasn't been able to do much about them.
But the end of the outfielder's long rehab from a right hamstring strain finally appears to here. Boston manager John Farrell said before Friday's series opener against the Royals that if everything went well for Victorino on Friday night in his second consecutive game for Triple-A Pawtucket, the outfielder will be activated from the disabled list on Saturday.
Victorino went 1-for-4 with a double for the PawSox on Friday and played seven innings in the field.
"So [Thursday] night was a very good night for him and we anticipate him getting through tonight in a similar fashion physically," Farrell said. "There's a scenario that has him active for us [Saturday]."
Farrell said on Thursday afternoon that he wanted to see Victorino play in back-to-back games before bringing him back to the Majors. On Thursday night, Victorino went 2-for-4 with two runs scored and played all nine innings in right field. He looked like his old self on the bases, going first to third on a hit-and-run in the sixth before scoring when the throw got away.
Those are just some of the things that Farrell and the Red Sox miss about Victorino, who batted .294 with a .801 OPS and 21 stolen bases in 2013. According to Fangraphs, he saved the fifth-most defensive runs of any outfielder in baseball last season with 23, as well.
"We've missed his energy. We've missed his talents. His in-game decisions. His instincts on the basepaths," Farrell said. "We've missed a very good player for the majority of the year. That being said, we're very much looking forward to him getting back."
Victorino has been limited to just 21 games this season after missing the first 21 contests with a strained right hamstring. That injury sent him back to the DL in late May. Then while he was rehabbing with Pawtucket on June 23, he slipped a disc in his back and club shut down that assignment.
Victorino told reporters following the game on Thursday that he didn't want to put a timetable on his return because whenever a timetable has been established, he suffers a setback.
The Red Sox will be cautious throwing Victorino into a full-time role right away given the difficulties he had while rehabbing and the twice-recurring hamstring injury.
"We recognize there's been a couple of starts and stops along the way," Farrell said. "So what kind of production he gives us immediately remains to be seen."
With his activation will come a roster move, however. It's possible that Mookie Betts, who admitted before the All-Star break that he knew he could be optioned to Pawtucket upon Victorino's return, will be the guy to go.
Victorino has played exclusively in right field this season, where he did for much of 2013. That means someone's playing time will decrease --- maybe Xander Bogaerts if Brock Holt sees time at third again, or maybe Daniel Nava.
But regardless, the Red Sox are excited to get a player like Victorino back, and he'll be happy to be back at Fenway Park. The Red Sox outfield ranks 17th in baseball in Wins Above Replacement at 3.5 after ranking first in 2013 at 15.8, according to Fangraphs.
Steve Petrella is an associate reporter for MLB.com. This story was not subject to the approval of Major League Baseball or its clubs.