Middlebrooks activated, seeks to turn season around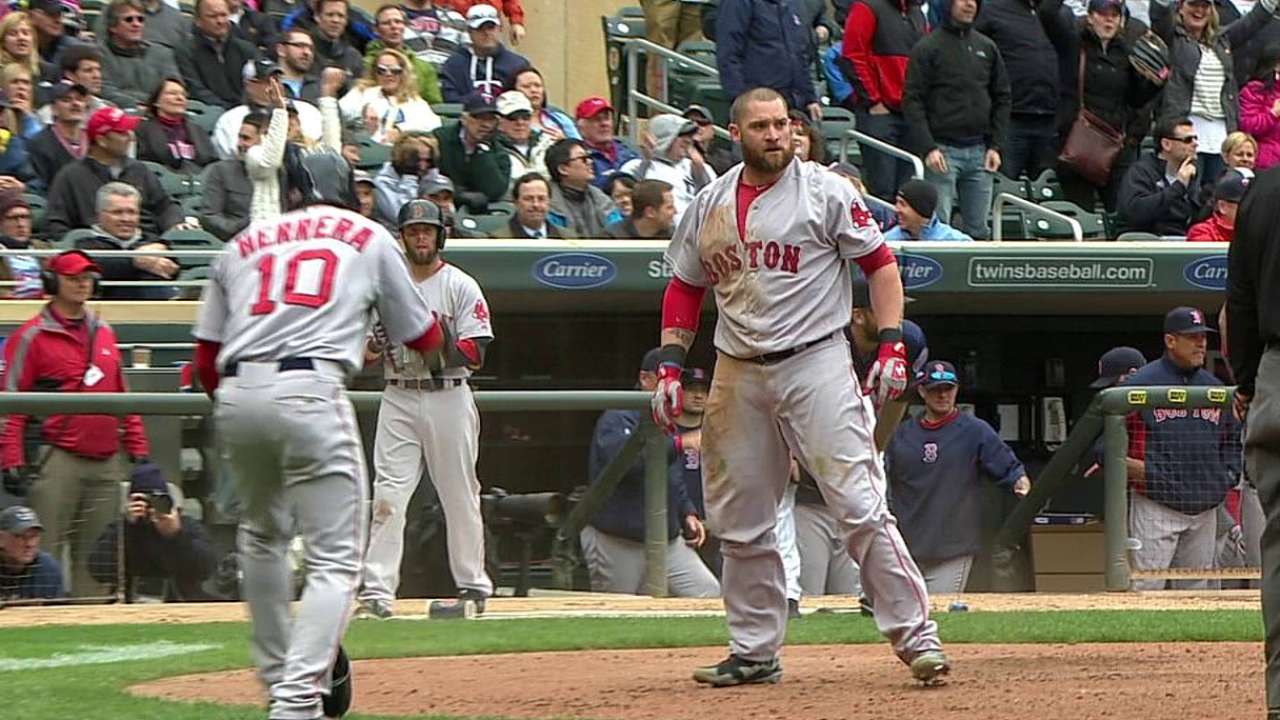 BOSTON -- This season hasn't gone how Will Middlebrooks imagined it would. Nothing seems to have gone that way for the Red Sox as a whole, either.
However, the 25-year-old said he's learned a lot from his ups and downs this year and is ready to contribute at the Major League level again after being activated from the disabled list Friday.
"Having gone through what I have, it's a little easier to slow things down," said Middlebrooks, who went 1-for-3 with a run scored. "I feel like I've seen both sides of it. I've seen the ups, I've definitely seen the downs and now we can just focus on staying somewhere in the middle and having a few more ups."
Middlebrooks is batting just .197/.305/.324 in 21 games this season because of two different DL stints. Xander Bogaerts and Brock Holt have manned third base for most of the past two months with Stephen Drew rejoining the club and playing shortstop. Boston sent Drew to the Yankees for Kelly Johnson on Thursday.
General manager Ben Cherington said Thursday that he wanted to find a way to get Bogaerts back at shortstop, his natural position, and give Middlebrooks a chance to see significant playing time at third. Middlebrooks has 34 homers in 686 career at-bats, and he went deep three times in his last 11 games during his most recent rehab stint with Triple-A Pawtucket.
So Middlebrooks has a chance to give the Red Sox some much needed pop, but he said simply that he needs to be more consistent at the plate to thrive. He last played in the big leagues on May 16 and has been recovering from a broken right index finger.
"I think we are all looking forward to his return," manager John Farrell said. "He has been able to get regular at-bats and get his timing down. Hopefully some of the injury bug that has followed him is behind him. This is an opportunity for him to take advantage of his skills. The opportunity is in front of him right now."
The clubhouse Middlebrooks entered Friday looked a lot different than when he left in mid-May because of the flurry of moves over the last few days. It's different, but Middlebrooks said he liked the energy and got a good feeling from the new group.
Coincidentally, Middlebrooks and Allen Craig now have bordering lockers. In Game 3 of last year's World Series, umpires ruled that Middlebrooks tripped Craig while the then-Cardinal tried to score on an overthrow to third in the ninth inning, which gave St. Louis a 5-4 win.
"First thing I said to him was, 'I promise, our lockers are close, but I won't trip you,'" Middlebrooks said. "He thought it was funny. It was pretty cool to hear his side of things and what he felt and what he saw."
Ian Browne is a reporter for MLB.com. Read his blog, Brownie Points, and follow him on Twitter @IanMBrowne. Steven Petrella is an associate reporter for MLB.com. This story was not subject to the approval of Major League Baseball or its clubs.