Bradley trying to find positives in slump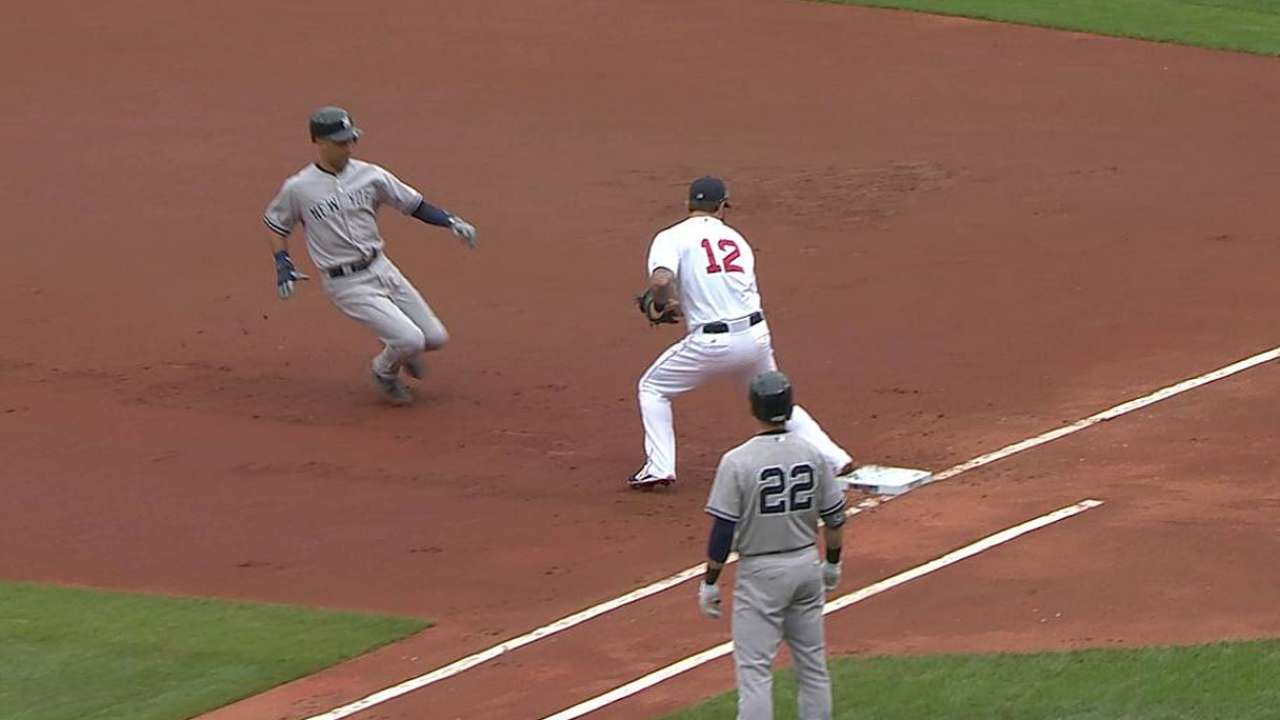 ST. LOUIS -- Rookie center fielder Jackie Bradley Jr., mired in an 0-for-24 slump, found himself out of the lineup on Wednesday for the second straight night. Prospect Mookie Betts got the start against the Cardinals in his place.
"[With Jackie] we're trying to focus on some early work," said manager John Farrell. "We're trying to shorten up his approach at the plate -- he was doing such a great job of that leading into the All-Star break. Felt like there was some need for some further maintenance and some work to take place. With Mookie being here, a young guy, we've got to make sure he gets at-bats, a minimum of at-bats, while he's here."
In a season in which Bradley has played spectacular defense, his bat has not had as much of an impact on a regular basis.
"Going through a little stretch," said Bradley. "I can't say it's the first time I've been through one of those things. You've just got to keep working. That's what I'm going to do."
Perhaps the most frustrating part of Bradley's latest dip is that it immediately follows his best stretch of the season, a seven-game span from July 1-25 in which he hit .345.
"He had made some adjustments, as you guys saw late in June, really, and into July and went on a nice run," said general manager Ben Cherington. "And then, since the All-Star break, it obviously hasn't gone well. Our expectation was, the way he went into the All-Star break, he would come out of it picking up where he left off and keep going. It hasn't gone that way for him. He keeps working at it. He's certainly learning still at the big league level."
The final 50 games of the season are vital for many players on the roster, and Bradley is prominent among them, as that time can serve as a proving ground that he can be the starting center fielder next season.
"His defense has been elite, and we know at some point there is going to have to be more offense. He knows that, too," said Cherington.
Bradley is still of the belief that there's going to be some payoff for the struggles he's had this season.
"It's been slow, honestly," said Bradley. "I like to look at positive things. I'm learning along the way. I can only get better. This is obviously the worst I've ever done. What better way to learn than at the highest level. I'll be able to look back on this one day and say that I have struggled mightily before and I can overcome it."
Bradley takes pride in the fact that he has not let his offensive woes carry over to his defense.
"If you're not doing something on one side of the ball, I definitely wanted to make sure I was doing it on the other side," he said. "I'm continuously trying to make plays in order to give my team a chance to win. If I'm not getting hits, then I want to take away hits. Until everything comes together and finally clicks, I've got to keep getting after it."
Though his numbers (.218/.290/.299) aren't pretty, Bradley hasn't lost confidence.
"When I go out there, I never feel like it's a lack of confidence. You want to have confidence in the results," he said. "It's just one of those things [where you have to] weather the storm and play it out. You can't give up. It's one of those things where I'm going to continuously work, and we'll see where it takes me."
Ian Browne is a reporter for MLB.com. Read his blog, Brownie Points, and follow him on Twitter @IanMBrowne. This story was not subject to the approval of Major League Baseball or its clubs.