Wright goes four innings in season debut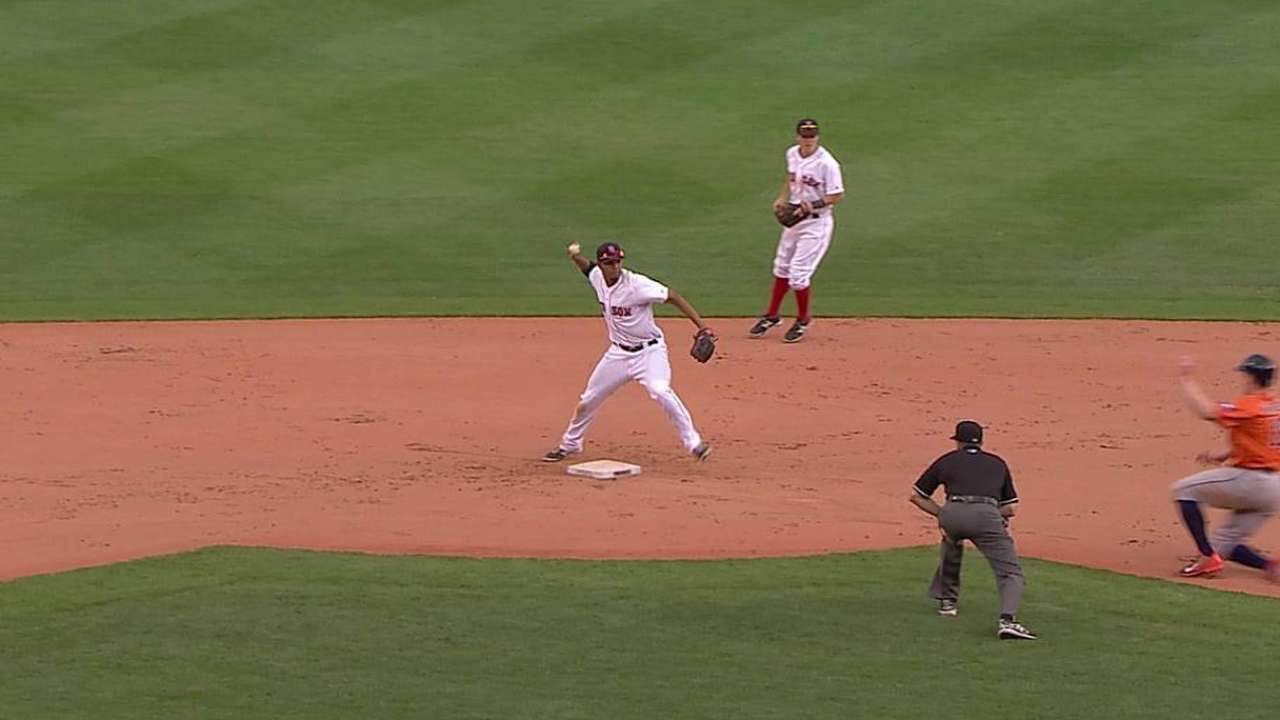 BOSTON -- The Red Sox recalled knuckleballer Steven Wright from Triple-A Pawtucket on Sunday to give their bullpen some length. Boston designated Corey Brown for assignment in a corresponding move.
Wright threw four innings of relief in his 2014 debut on Sunday, allowing four hits and one run while fanning four. He threw 75 percent of his pitches for strikes in the game's final four innings --- a game in which Joe Kelly was chased after just four frames. The Astros led by six after the fourth and won, 8-1.
"He came in, gave us innings. He kept the game in check despite the one run allowed," said manager John Farrell, who intends to use Wright in long relief. "He provides such a contrast to some of the power arms that he might follow, so it is a good fit. He threw strikes."
While Wright's knuckler used to sit in the high 70s, it's now usually in the mid 70s. Occasionally, like he did Sunday, he'll drop a 65-mph knuckleball in.
Wright said the biggest adjustments he made this season were slowing down his knuckleball, pitching to contact and not trying to overthrow. His walk rate of 5.7 percent with Pawtucket in 2014 is considerably better than his career mark of 15.3 and his strikeout rate is on par with his lifetime average.
"My whole philosophy this year is contact," Wright said. "Last year, I got caught up too much in trying to get them to swing and miss, trying to overthrow. The knuckleball was so good, but it was very inconsistent with my starting point, which made it harder to keep in the strike zone."
Entering Sunday, Burke Badenhop had pitched in four of the team's last five games. Koji Uehara threw back-to-back days, as well. After Rubby De La Rosa lasted just four innings on Saturday night, Farrell wanted Wright in the 'pen Sunday.
Farrell said before the game that he'd prefer to use Wright at the start of an inning as opposed to putting him in the game with runners on. He was able to do that when Kelly struggled and Craig Breslow threw a perfect fifth.
The 29-year-old Wright made all four of his previous Major League appearances in 2013, allowing eight runs over 13 1/3 innings. Wright's only other stint with the Red Sox this season came on Aug. 3, when he was with the team for just a day, but didn't pitch.
Wright has made 13 starts for Pawtucket this season, posting a 2.76 ERA, 1.00 WHIP and .214 batting average against. Of his 229 career Minor League appearances, 146 have been starts.
Brown, 28, has played in 39 games during his four-year big league career, including three with the Red Sox this season. He entered Saturday's game in the eighth as a pinch-runner, was a defensive substitute in the ninth on Thursday and struck out as a pinch-hitter Wednesday in Cincinnati.
Brown hit .226/.294/.452 with 16 home runs and 39 RBIs in 83 games with Pawtucket this season. The Red Sox purchased his contract from Pawtucket on Aug. 5.
Steven Petrella is an associate reporter for MLB.com. This story was not subject to the approval of Major League Baseball or its clubs.