Red Sox option Workman to Triple-A, recall Hembree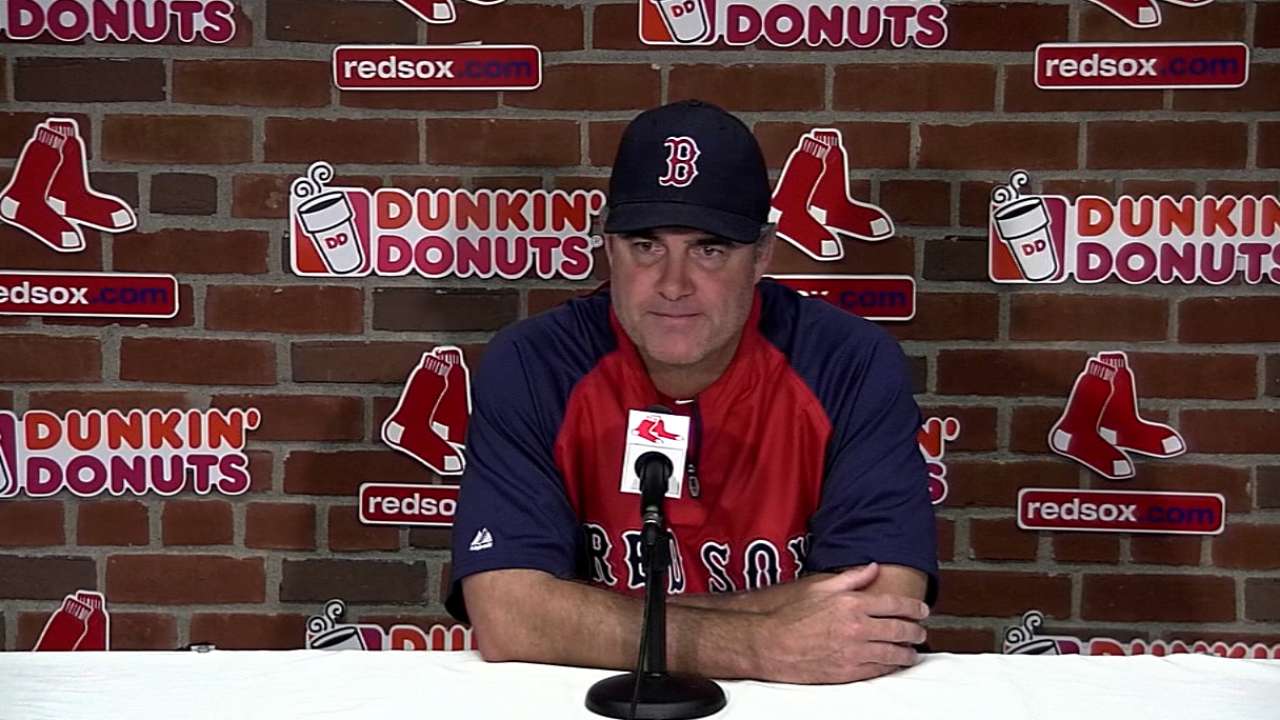 BOSTON --- A day after he gave up seven runs on 10 hits in less than four innings, the Red Sox optioned righty Brandon Workman to Triple-A Pawtucket. The club recalled reliever Heath Hembree in a corresponding move.
The Red Sox have an off-day Thursday, so manager John Farrell could stick with four starters for now, but said a pitcher will be called up for Friday's game at Tampa Bay -- likely Anthony Ranaudo, who started for Pawtucket Sunday and has made a pair of spot starts for Boston this season. Workman will go for the PawSox on Friday, which is when Ranaudo's next start would be.
Ranaudo is 14-4 with a 2.46 ERA and .219 batting average against in 23 starts at Triple-A this season. The 6-foot-7 righty has allowed 12 hits and six runs in 12 innings with the Red Sox, winning both his starts.
Workman has eight losses in his last eight appearances, posting a 6.75 ERA and 1.63 WHIP during that span. The Red Sox skipped his turn in the rotation 10 days ago because of fatigue, and Monday against the Angels, Workman allowed just two runs on six hits over seven innings, citing the rest as a reason for his success.
But Workman took a step back Saturday by surrendering those seven runs in 3 1/3 innings against the Mariners. He came through the first three fames unscathed, but allowed all seven runs on seven hits in the fourth in a 7-3 loss.
"I was doing my best to gather myself and flush the last pitch and focus on executing the next pitch," Workman said. "I thought I did a good job of flushing the pitch before, just didn't do a good job of executing the next one."
Farrell said Hembree will be used in a long relief role should the club need it. Sent from San Francisco to Boston in a deal for Jake Peavy in late July, the 25-year-old righty threw four shutout innings --- frames 15, 16, 17 and 18 --- in an Aug. 9 loss to the Angels. He was optioned the following day.
"We gain a multi-inning reliever to support our bullpen right now," Farrell said Sunday.
Steven Petrella is an associate reporter for MLB.com. Quinn Roberts is a reporter for MLB.com This story was not subject to the approval of Major League Baseball or its clubs.