Bogaerts placed on concussion DL; Papi day to day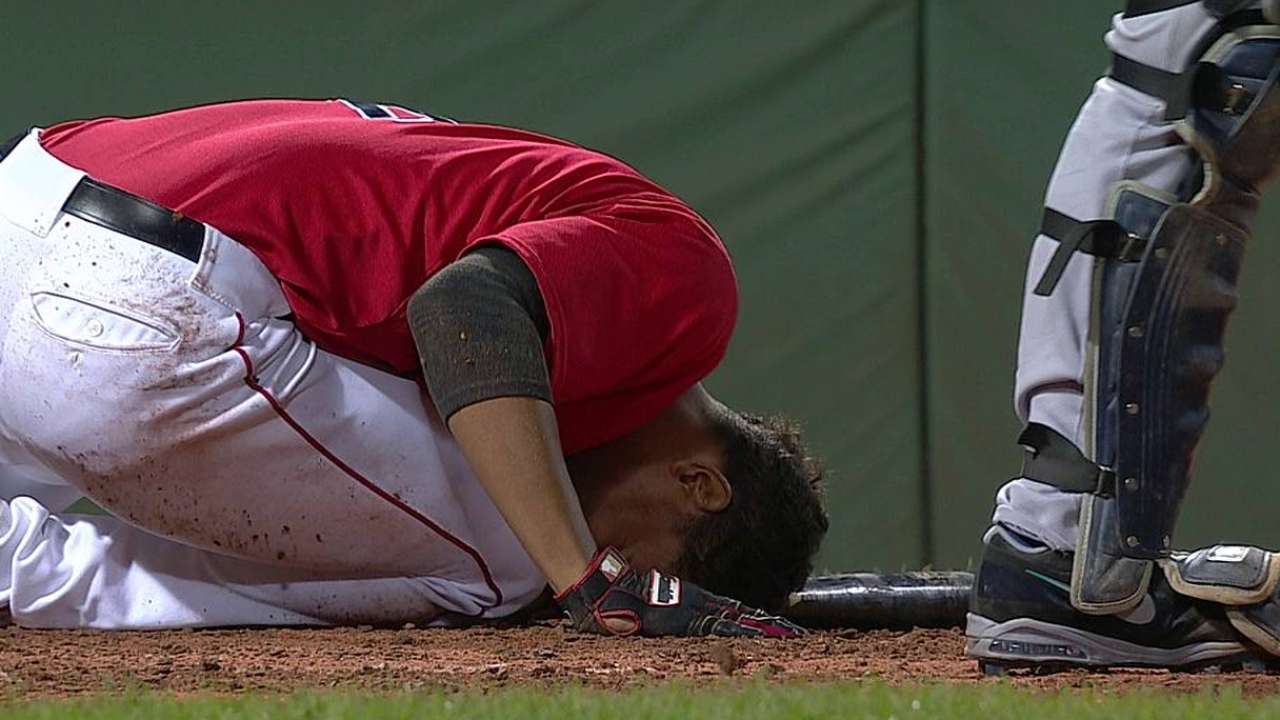 BOSTON -- The Red Sox placed Xander Bogaerts on the seven-day concussion DL after Sunday's game against the Mariners and selected the contract of infielder Carlos Rivero from Triple-A Pawtucket.
Bogaerts underwent tests earlier in the day before the club made its final decision. He was hit in the head with an 88-mph changeup Friday night by Mariners right-hander Felix Hernandez.
"He still has some symptoms from a mild concussion. Until they subside or clear up, we've got to go through the protocol to get him cleared," Red Sox manager John Farrell said. "He'll be inactive for those seven days at a minimum."
Bogaerts won't travel to Toronto for the team's series against the Blue Jays, but expects to be with the club in St. Petersburg to face the Rays later in the week.
"It's been getting better. I feel good. I just need to make sure I am fully healthy when I come back," Boagerts said. "I'm just listening to the training staff. I've never dealt with something like this."
David Ortiz, also the victim of a hit-by-pitch, was in the Red Sox lineup Sunday while battling a swollen elbow. Mariners reliever Charlie Furbush hit the slugger with a fastball just above the left elbow in the sixth inning Saturday.
But Ortiz left Sunday's game against Seattle in the sixth inning, as well. This exit came after sustaining a right foot contusion.
The Red Sox slugger fouled a first-pitch fastball off the top of his right foot in the fourth and needed nearly two minutes to shake it off and continue his at-bat. He struck out for the second out of that inning.
In the sixth, he nearly went deep, but his line drive off Joe Beimel bounced off the right-field wall and stayed in play. Ortiz hobbled to first, not even thinking about trying to take two, and Kelly Johnson came on to pinch-run for him.
"He's day to day. Foul ball off the foot. Obviously, after he hits a ball off the wall in right he can only get to first base. It's a contusion," Farrell said. "The fluoroscan at this point proved negative -- no fractures of any kind based on that test. We'll check him once we get to the ballpark tomorrow and obviously throughout the night tonight."
Ortiz's presence in the middle of the lineup was severely missed in the bottom of the ninth inning. With the Mariners clinging to a two-run lead, Johnson came up in Ortiz's spot with the bases loaded and two out, striking out to end the game.
"Anytime you lose David Ortiz out of your lineup, it's a hole. And that's not to take anything away from Kelly Johnson, who doubled in his first at-bat," Farrell said. "We'd like to have David up at the plate more often than the four or five times a night to begin with. It's someone that we miss who's been a main cog in our offense daily and year to date. Hopefully, this is just a short-lived loss in the lineup for him."
Steven Petrella is an associate reporter for MLB.com. Quinn Roberts is a reporter for MLB.com This story was not subject to the approval of Major League Baseball or its clubs.