Escobar fires scoreless frame in debut with Sox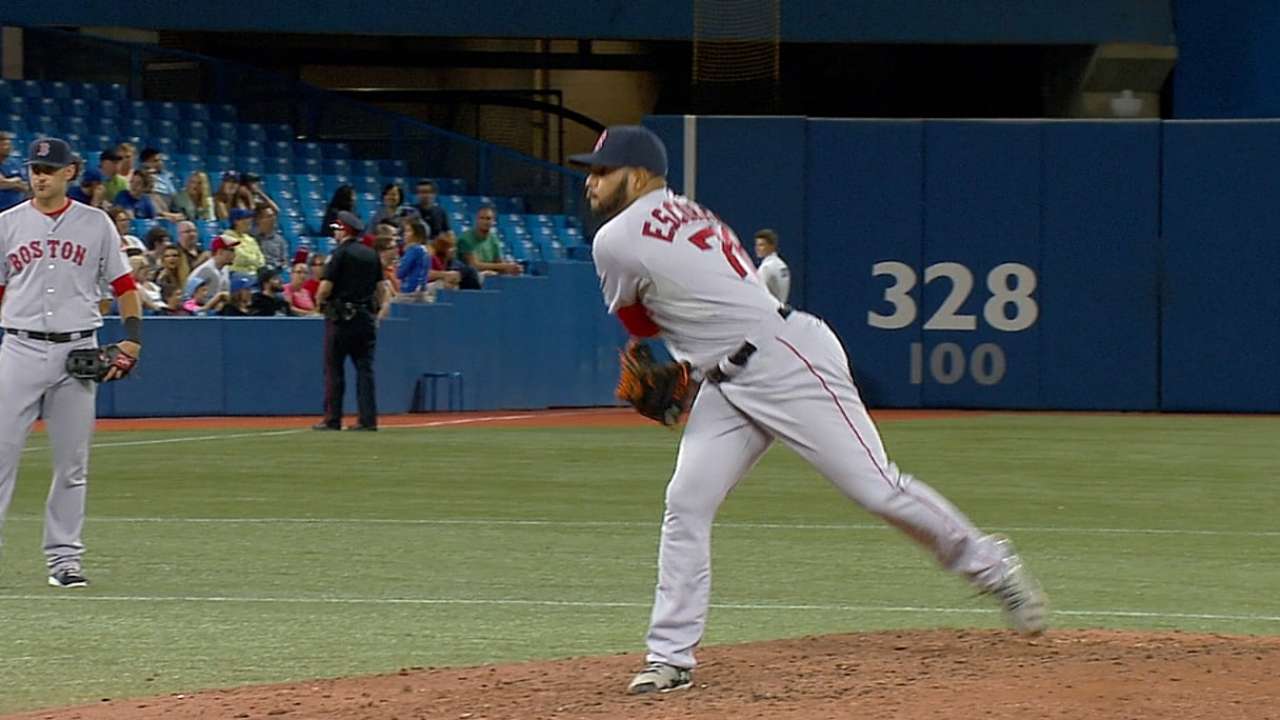 TORONTO -- Edwin Escobar made his Red Sox debut in a 5-2 loss to the Blue Jays on Wednesday, tossing a scoreless inning of relief.
Escobar retired Steve Tolleson, Edwin Encarnacion and Dioner Navarro in order.
The Red Sox optioned Heath Hembree to Triple-A Pawtucket on Wednesday and recalled their No. 11 prospect in a corresponding move.
Hembree allowed three hits and three earned runs in the 11th inning of the Red Sox's 11-7 victory over the Blue Jays on Tuesday. He was largely shielded from the Blue Jays' late offense after Boston put up a seven-run 11th. After playing two consecutive extra-innings games, the Red Sox were in need of a fresh bullpen arm.
"[Escobar] is here for bullpen depth," said manager John Farrell. "If something unforeseen happens tonight, we have to cover ourselves about the innings."
Acquired in the Jake Peavy deal from the Giants, this is Escobar's first trip to the Majors in a Red Sox uniform. He made four appearances (three starts) last season with San Francisco, posting a 5.19 ERA over 8 2/3 frames.
The left-hander has split his time in 2014 between the PawSox and Fresno of the Pacific Coast League. Escobar was 3-8 with a 5.11 ERA in 20 starts with Fresno and 0-2 with a 4.22 ERA in five starts with Pawtucket.
Jamie Ross is an associate reporter for MLB.com. This story was not subject to the approval of Major League Baseball or its clubs.