Red Sox keeping options open on Betts
Top prospect has made smooth transition from infield to outfield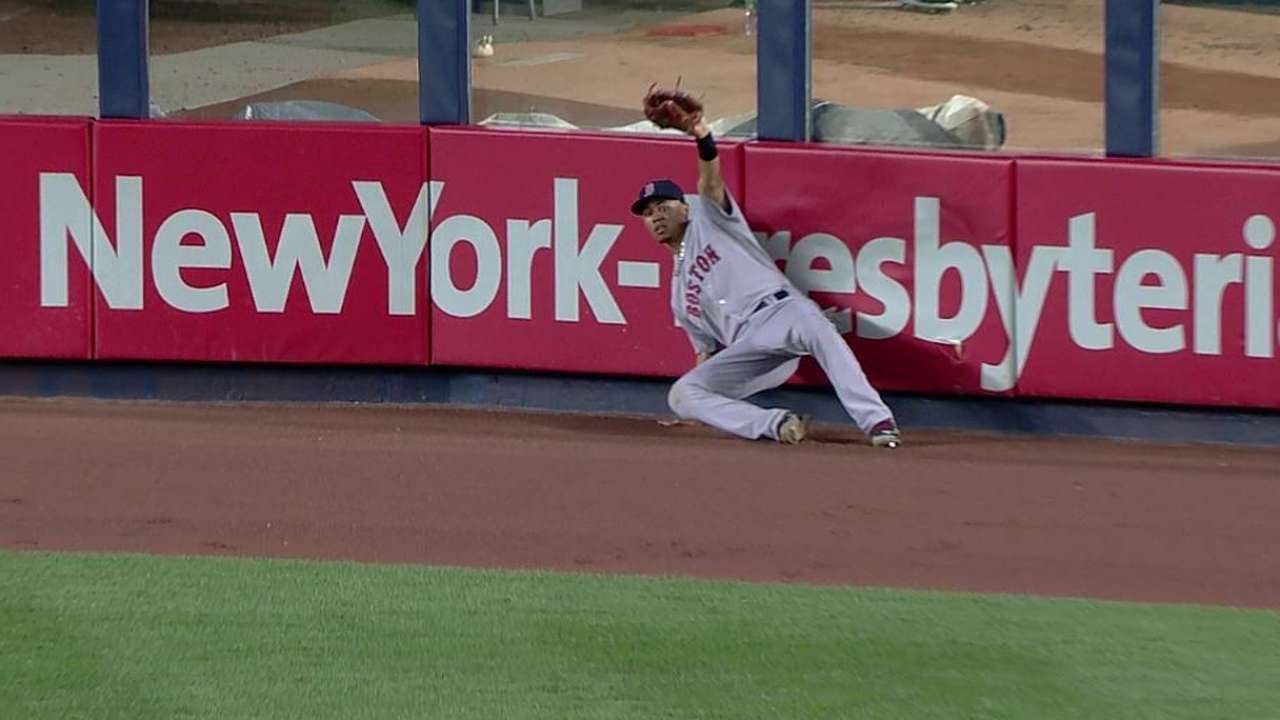 NEW YORK -- Top prospect Mookie Betts has clearly looked like a Major Leaguer in recent days. Less clear is what position he will play for the Red Sox in 2015 and beyond.
Betts has been playing center field, but that is the position the Red Sox signed Rusney Castillo to play for the next seven years.
"We believe we're better off having more than one good Major League center fielder, and hopefully we have, in the long run, in terms of long-term control, hopefully we have three at the upper levels now," said general manager Ben Cherington, referring also to Jackie Bradley Jr. "We'll figure out a way to incorporate all of them hopefully."
But what about 2015?
"Look, we understand next April there's nine spots in the lineup, so nine people will be in the lineup and we'll figure out who those nine guys are and how it all winds up," said Cherington. "I think we want as many good players as we can and we're happy that we think we have a number of guys that could play center field in the Major Leagues. And in our particular ballpark, we like having more than one center fielder in the lineup at any time anyway because of the dimensions, and hopefully this gives us a chance to do that."
The Red Sox selected Betts in the fifth round of the 2011 First-Year Player Draft as a middle infielder. However, the club has long-term security with Dustin Pedroia at second and Xander Bogaerts at short.
"I wouldn't rule anything out moving forward," Cherington said. "He's been an infielder for most of his life, but we think he can be a good player. And obviously given that he's had less reps in the outfield, he's made quick improvement out there. It looks like he's going to be plenty good to play out there if that's where the opportunity is. We're not going to rule anything out."
What about third base, given the continued struggles of Will Middlebrooks?
"We haven't had that discussion," Cherington said. "I think, obviously, he signed as a shortstop, moved to second base, got very comfortable there, and then moved to the outfield this year. We have a lot of confidence in his ability to play second and the outfield, and obviously we think he's going to be a really good defensive player and a good baserunner.
"We haven't discussed the left side of the infield yet. I don't expect to. I guess I can't completely rule it out. I don't expect to. We'll likely focus on either one of the outfield spots or second base, and obviously on this team, second base is hopefully locked up."
Ian Browne is a reporter for MLB.com. Read his blog, Brownie Points, and follow him on Twitter @IanMBrowne. This story was not subject to the approval of Major League Baseball or its clubs.