Despite loss, Ortiz's prowess impressive
Slugger goes deep in first two at-bats against rival Yankees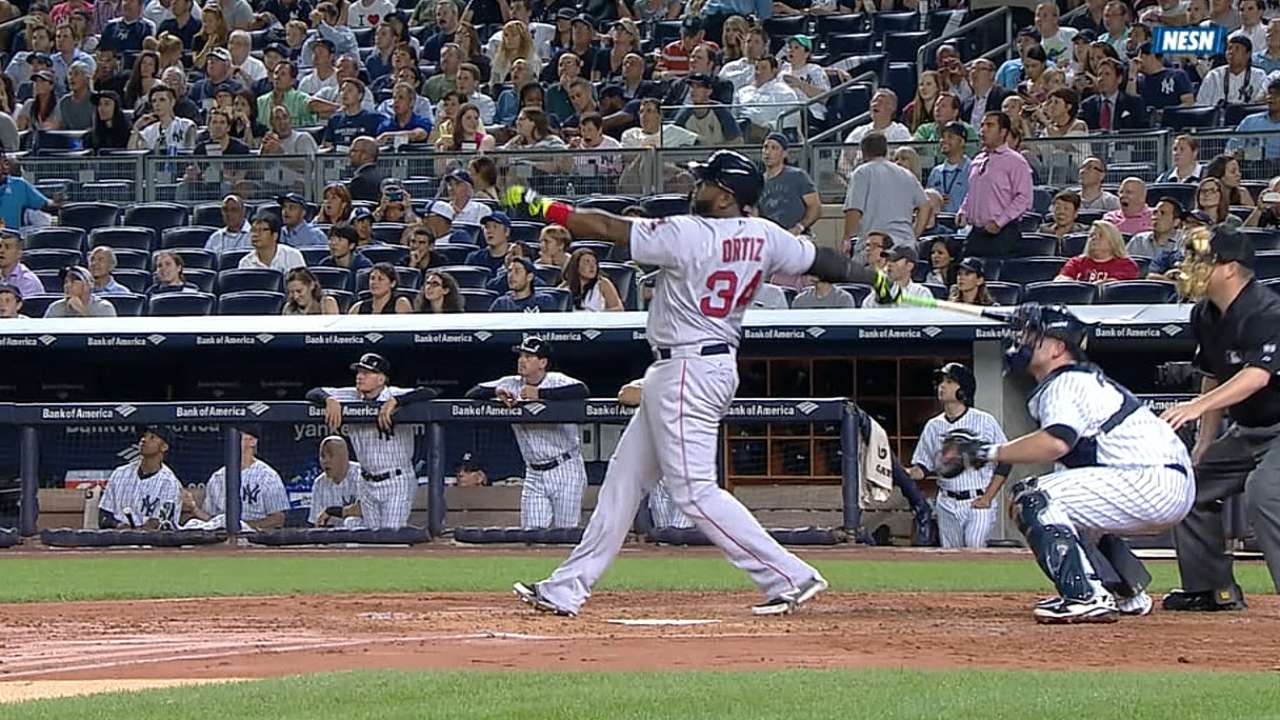 NEW YORK -- By the third inning on Thursday, David Ortiz had already belted two homers at Yankee Stadium.
You wondered if this was finally going to be the night the slugger belted three homers in a game, one of the few feats he's never accomplished.
"It seems like that ain't for me," said Ortiz after a 5-4 loss to the Yankees. "Yeah, man, I was trying. I'm not going to lie to you."
After hitting the pair of long balls against Chris Capuano, Ortiz struck out against Rich Hill and flew out to center against Shawn Kelley.
"I guess I got some pitches to hit my first couple of at-bats," said Ortiz. "See, the one thing you guys need to focus is see the way they pitch to the hitter. I'm the kind of guy, I don't get a cookie every time I go to hit. I've got to battle through it and try not to miss any pitch I get to hit, otherwise things are going to cool off because they're pitching very tough to me."
Considering how much the Red Sox have struggled offensively as a team, Ortiz's prowess has been impressive.
At the age of 38, he has 32 homers and 98 RBIs.
"You don't have too many guys doing that," said Ortiz. "Like I said, pitching [around the game] has been unbelievable this year."
Ortiz has five multihomer games this season and 46 in his career. His 44 multihomer games for the Red Sox extended his own club record.
Ian Browne is a reporter for MLB.com. Read his blog, Brownie Points, and follow him on Twitter @IanMBrowne. This story was not subject to the approval of Major League Baseball or its clubs.